Community & Cause is a promotional voting campaign to award $20,000 to one non-profit in the Lexington-Fayette MSA: Bourbon, Clark, Fayette, Jessamine, Scott, & Woodford counties.
Voting Starts Monday, October 2
Field & Main Bank is thrilled to announce 106 non-profit organizations have registered for the Community & Cause initiative giving them an extraordinary opportunity to win $20,000!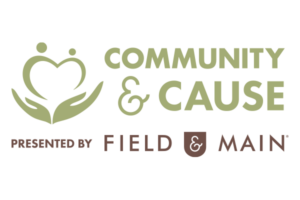 Public Voting
October 2 – October 31
Use the form below to vote 1 time per person per day.  All votes appearing to be a violation of the 1 vote per person per day rule are subject to voiding. By submitting information below you are opting in to receive future messaging from Field & Main.
Winning organization will also receive airtime on WKYT, coverage by LEXtoday, and a full page ad in TOPs Magazine. Winner must agree to providing a testimonial about Community & Cause / Field & Main Bank.