Community & Cause is a promotional voting campaign to award $20,000 to one non-profit in the Lexington-Fayette MSA: Bourbon, Clark, Fayette, Jessamine, Scott, & Woodford counties.
Field & Main Bank is thrilled to announce a unique initiative – "Community & Cause". This campaign underscores the bank's commitment to the communities of Lexington-Fayette MSA, encompassing Bourbon, Clark, Fayette, Jessamine, Scott, and Woodford counties. We're inviting all local non-profits to participate in this extraordinary opportunity to win $20,000! We are proudly partnering with WKTY & LEXtoday.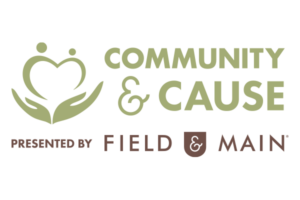 Non-Profit Registration
September 1 – September 22
Public Voting
October 1 – October 31
Organizations must be registered and in good standing as a 501(c)(3) nonprofit organization according to the Internal Revenue Code, or must be a charitable program that is fiscally sponsored by such an organization.
Institutions of faith may only participate if fundraising for non-secular charitable programming, such as a food pantry that is operated from the organization. Educational programs operated within a religious institution, such as a parochial school, may participate so long as funding is for educational and/or charitable purposes.
Organizations may not participate if they are identified by the Horizon Forum Hate Screen as participating in hateful activities.
Organizations must be physically located within the service area counties, listed below. Please note, a post office box does not constitute a physical location for  participation requirements.


Bourbon
Clark
Fayette
Jessamine
Scott
Woodford
Use the form below to register to participate. Once eligibility is confirmed you will receive a voting toolkit for you to use in mobilizing your supports in efforts to win the $20,000. By submitting information below you are opting in to receive future messaging from Field & Main.
Winning organization will also receive airtime on WKYT, coverage by LEXtoday, and a full page ad in TOPs Magazine. Winner must agree to providing a testimonial about Community & Cause / Field & Main Bank.